About Me
Terry has a lifelong interest in music. Majoring in Music Education at the University of Miami in Florida he studied under Dr Fredrick Fennell, the originator of the modern wind ensemble. In 1987, he and his family relocated to North Carolina making their home in Cary. He began working with a conservator of musical instruments restoring historic forte pianos and harpsichords.
Terry is a member of the Piano Technicians Guild and continues to update his knowledge by attending seminars and conventions. He has been providing quality piano and harpsichord service to the Triangle for more than 35 years and hopes never to retire. His hobbies include giving infrequently appreciated lifetime advice to his two sons, woodworking, woodcarving, boating and fishing.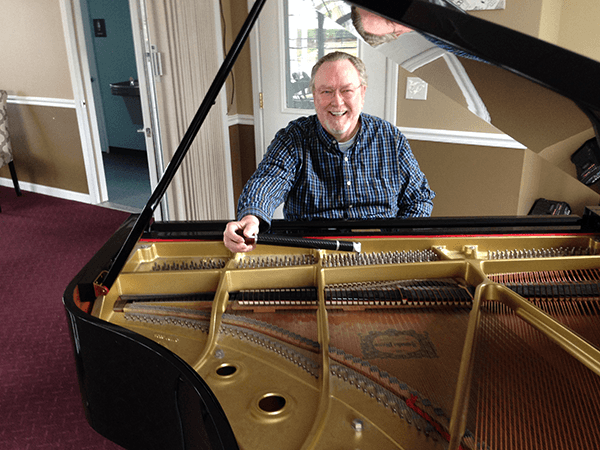 With over 35 years of experience tuning, servicing, appraising, rebuilding and restoring pianos, I will have your piano tuned and ready to play typically in one visit. – Terry Neely
I wanted to take this opportunity as we begin a new year to let you know how happy I am that you are tuning the church pianos. I feel so blessed for you to include us in your schedule. Your professional recommendations for the baby grand have been perfect in keeping the sanctuary piano in good shape during the extreme heat we experienced last year. The church members can tell a difference when you have been here!! Keeping the pianos in great shape is so important to the music ministry of the church. Thank you for taking care of us. You're the best!!
Professional Bio
More than just your average piano tuner…
For the last 35 years I have serviced thousands of pianos and harpsichords of all shapes and sizes. The first piano I ever serviced was a 1797 English Forte Piano (see photo above) and I'm sure you can imagine just how quickly I learned the importance of being accurate and cautious when working on such a historic and valuable instrument. The experience I gained while working on this antique piano (and many others just like it) has taught me much about both antique and modern pianos… and exactly how to service, tune, and handle valuable instruments with care.
I earned my title as a piano technician the old-fashioned way. I was an apprentice to an expert technician and master rebuilder who did museum quality restorations on very rare, historic and antique instruments. I continue to update that training through attending seminars and conferences every year, studying pianos of all ages.
I am an independent technician and I am not associated with any particular manufacturer, so I'm able to offer unbiased service and advice. Plus, I do a "service call," not a "tuning call," which means that I use my restoring and rebuilding skills to improve the performance of your piano in addition to simply tuning it! If you live in the Triangle area of North Carolina, I can tune, repair or restore your piano to a condition that's sure to increase it's value…
Our Clients
Over the years, I have had the priviledge of tuning for many outstanding venues, organizations, and schools.
My list includes:

Village music School, Cary Arts Center, Peace College, Duke University, Cary School of Music, Meymandi Hall, Meredith College, Unc Chapel Hill, North Carolina Symphony, A J Fletcher Opera Theater, North Carolina State University, Cary Academy,Concert Singers of Cary, North Carolina Ballet,Carolina Performing Arts, Haywood Hall, Garner Arts Association, Wake Forest Birthplace Museum, Capital Area Preservation, Durham Music Teachers Association, Cary Area Music Teachers Association, The Outer Banks Forum, Lamar Springfield Music Camp, North Carolina Museum of Art, Raleigh Chamber Music Guild,Moore County Arts, North Carolina Theater Company, Raleigh Ensemble Players,Mordechi Historical Park, Raleigh School of Ballet, Raleigh Symphony, Town of Cary, Page Walker Hotel, Stewart Theatre, Multple retirement centers, Wake County Public Schools, and piano dealers.
Many thanks to the many private clients and piano teachers who have invited me into their homes to service their instruments.